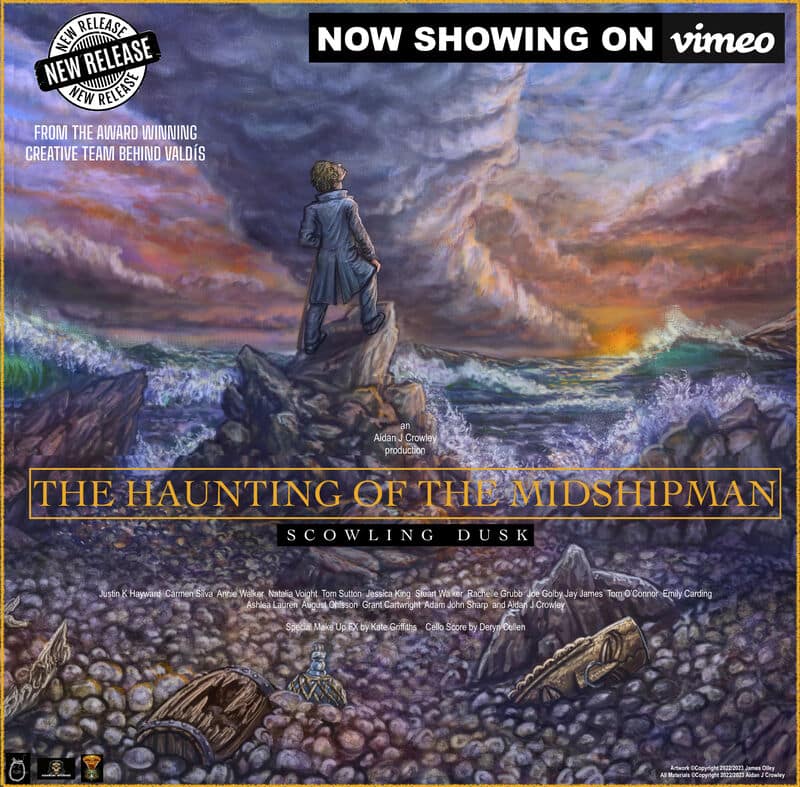 Following on from the events of Valdís (web-series) The Haunting of the Midshipman is a prequel to the Scowling Dusk Trilogy. An epic arthouse Grand Guignol presented in two parts. Set in a strange 'limbo' world between life and death and close to the river Styx, we meet a puppet who begins to tell us about his friends who may or may not be already dead…
This substantial independent film was shot over a number of years with the same company of actors working with the unusual vision of director Aidan J Crowley (Valdís). An exploration of the influence of psychosis on the human condition as well as ancient mythologies and the tragic consequences of death and suicide. Using the forte of fantasy cinema and puppetry, a suggestion of stop-motion, Shakespeare verse and most importantly the faces and voices of his actors playing multiple characters, Crowley weaves a disturbing, confusing but splendid web of imagery and noise, complimented by the beautiful cello score of Deryn Cullen.
This is a challenging film, presented in two parts, atypical of any modern movie and with an intermission; but it is certain that you will be enthralled, irritated, confused, moved and impressed by the end of this opus. Crowley remains a unique filmmaker and one to watch. This introduction to his 'Scowling Dusk' world makes an impression on your subconscious.
You can access Part 1 of the film here: Part 1
You can access Part 2 of the film here: Part 2